The Watchers vs. The Watched at Two Shows in Williamsburg
How much power does a stage confer?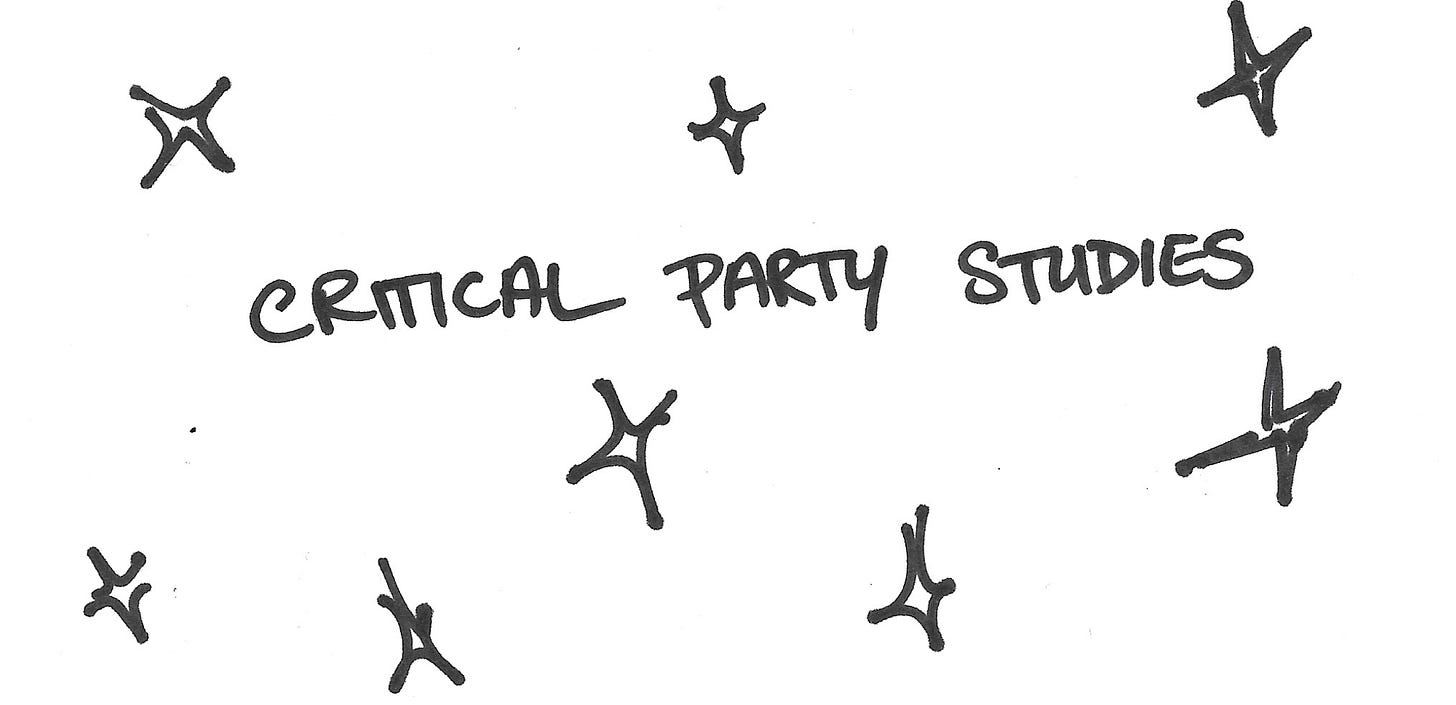 Toots and the Maytals play Brooklyn Bowl
Toots and the Maytals plays Brooklyn Bowl and the vibes are… troubled.
It's hard to figure out what reggae means today. I grew up with received notions of reggae's decolonial history, and a narrative of grievance with the way it has been, since that era, refashioned by neoliberalism into a hollow papier-mâché of slogans and aesthetics. Sure. I also inherited the cognitive dissonance of knowing all that, but still on some level reveling in the head-pats (and supposed tourism dollars) bestowed by the rest of the globe in recognition of that confused, shambling husk of a culture projected onto me.
Then, in my adolescence, came an opportunity for resolution: the "reggae revival," a supposed reclamation of the genre's radical roots, a rebirth of a movement and a throat-clearing on what reggae means, what it stands for. Almost a decade and countless Spotify playlists, Diplo collaborations and Marley family visits to Israel later, and I'm still confused. I don't have the answers, and no one's paying me to find them. In case you forgot, this is just a blog.
All of this sets the stage (WE CAN DO PUNS ON THE BLOG!!) for friction between how audiences see performers and how performers see themselves at a reggae concert.
A stage is literally elevated, and the border that separates it from the audience is, at most shows, semi-permeable: performers may cross into the audience as they please, but if an audience tries to get on stage, some security guy is going to put your head in his armpit. This is what we traditionally accept as the power dynamic of performance: the performers are idols, sanctified and protected.
But Toots and the Maytals are performing in Williamsburg, a place where power dynamics are a rats' nest and wealth and power are as hard to grasp as the wind. So, when I arrive at Brooklyn Bowl (after going through a very airport-like security process), I don't really know what to expect. What I find is very… Margaritaville vibes. There's a white reggae DJ performing to a very empty dance-floor with red, green and gold lights behind her. Carnival Cruise vibes… I go to get cash out of the ATM for a shirt and the guy in front of me has like $20000 in his chequing account. [Timmy's Dad voice] Williamsburg…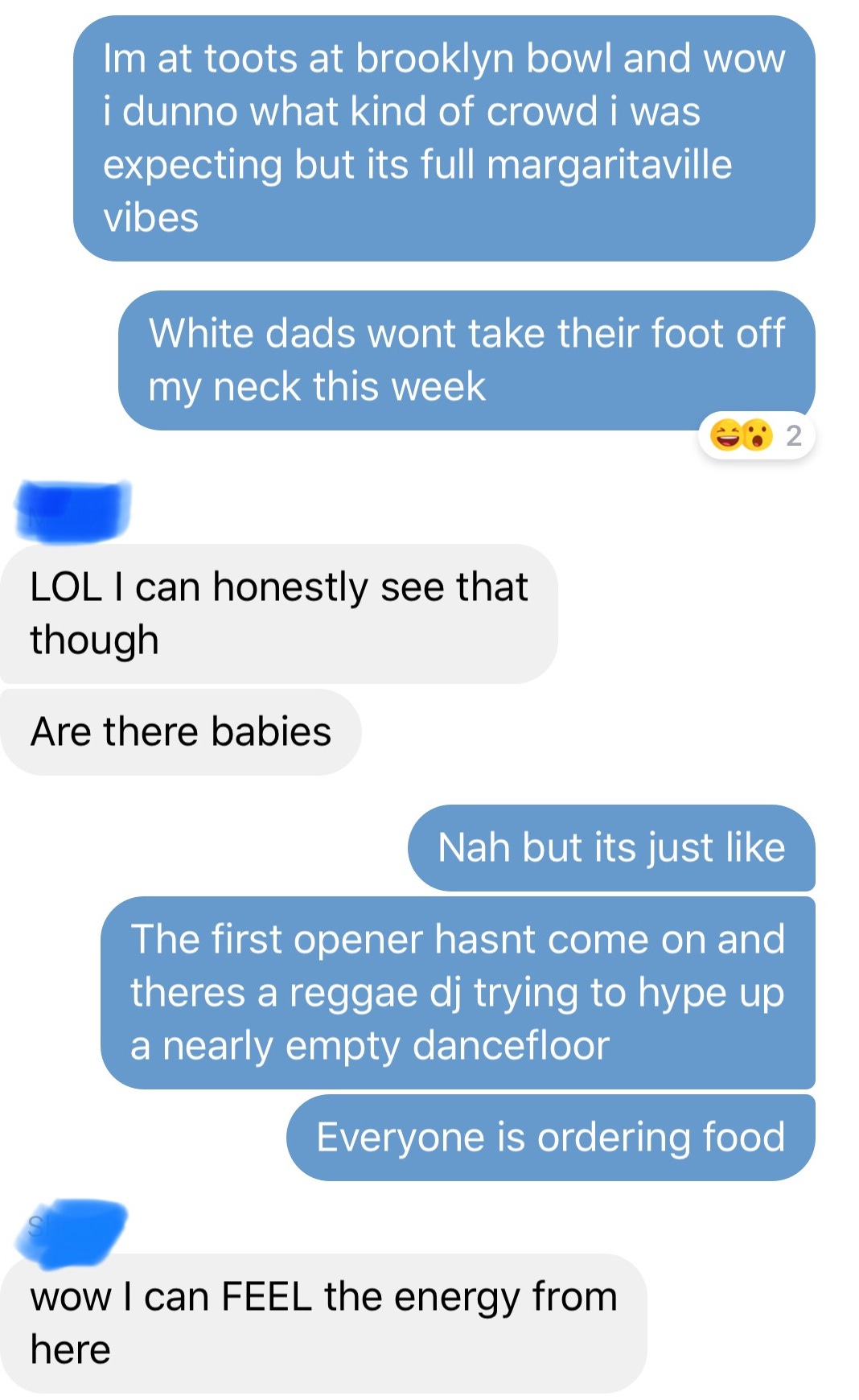 Victory Boyd is a great opener, performing on acoustic guitar with a strong gospel influence. The crowd mostly ignores her.
Toots and the Maytals, an act fronted since the 1960s by the man who someone outside the venue later will call "the James Brown of reggae," takes the stage, and, though I have the same anxiety I always do watching older performers, it's fantastic. Toots Hibbert remains the kind of performer that makes me feel silly for ever lamenting not being able to see James Brown or Otis Redding, and this set is a rejoinder to his exclusion from that lineage, a forceful infiltration of the canon. In a set full of unassailable bangers like can't-have-a-Jamaican-wedding-without-it "Sweet and Dandy," "Funky Kingston" (James Brown who?) and personal tearjerker "Pressure Drop," Toots and the Maytals insert blood-pumping interpolations of the immortal "Bam Bam" and ga-ga-ga-ga's from "Try a Little Tenderness." I see you Toots! Throughout the set, the band reconstructs a canon with nods, winks and the kind of virtuosic dexterity that—not to sound like a nostalgist or anything—you don't see a lot of These Days.
But still, the vibes. Toots introduces one song with, "I don't wanna sing this song but everybody wants me to sing it." Uh-oh! It's "Country Roads"! Which I love, but fair, it does remind me of the Tiger Inn basement. And I don't know how to listen to all these deeply meaningful songs that are woven into the fabric of a Black, Jamaican musical tradition in this crowd. Like, how can I respect the sanctity of the call, when the response is so... state fair vibes?? The problem is not how this music is being performed, but my anxiety about how how it's being listened to. The ATM receipt guy is deadhead jiving somewhere in the crowd and I just can't not feel like this music is being reduced somehow.
The gospel break to "What a Feeling" at the end... I just couldn't do it. Like, you guys have to clap on beat. I had to get out of there.
It's not like Toots and the Maytals was ever really positioned as a "radical band" (in the traditional sense), and me feeling indignant on behalf of this music is probably a reach. But there's something uncomfortable about watching this music, in real time, being made into leisure by its audience.
Culture Abuse plays the Music Hall of Williamsburg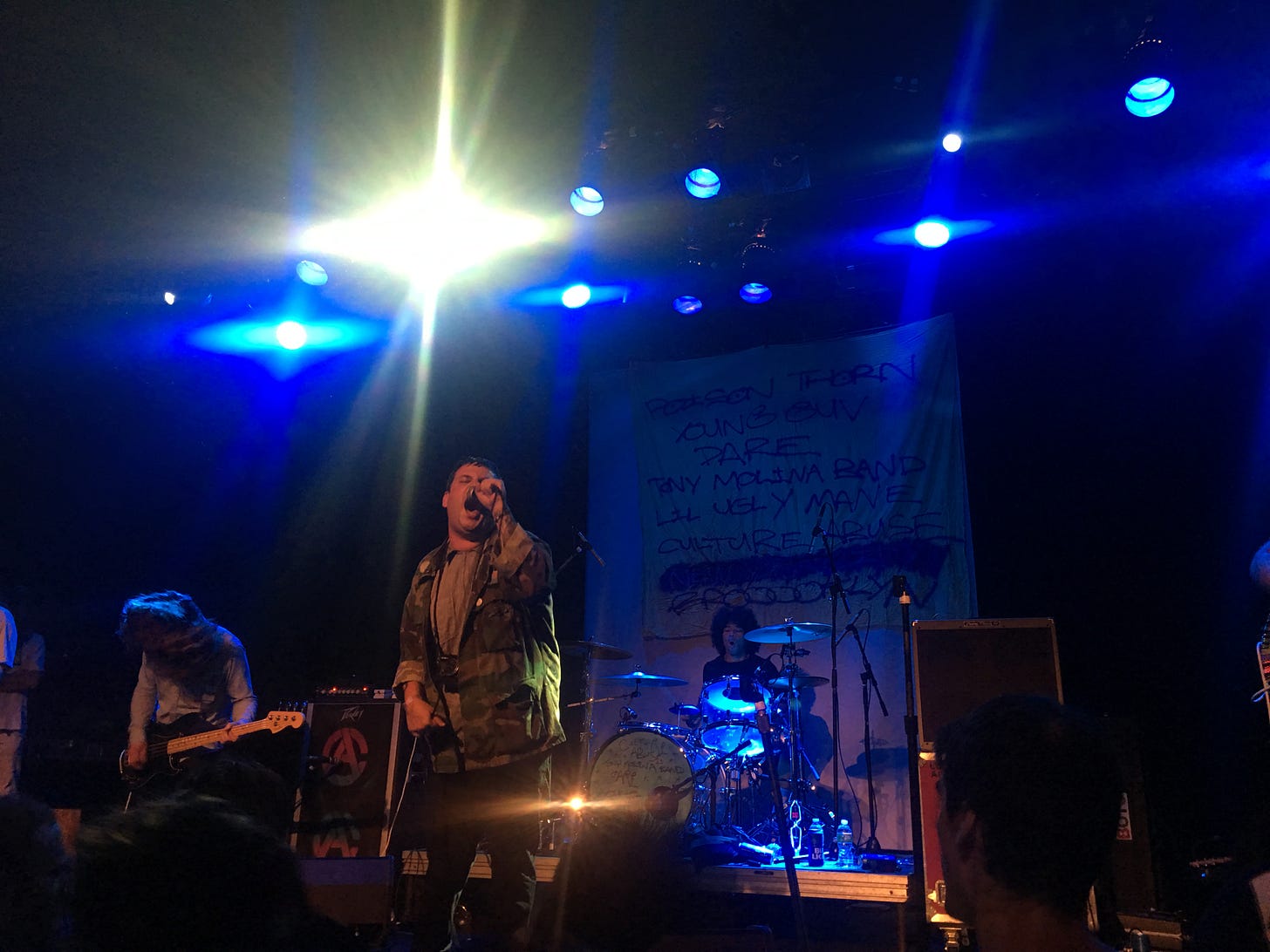 Pop music history is full of romanticized narratives of tension between audiences and performers. So, I want to believe that when a performer is tested by an audience's derision, it can ignite some righteous fury, some part of the psyche that can only be awakened under persecution.
But for me personally, as someone who sometimes can't sleep without running through a list in my head of people who might be mad at me and why, when it becomes clear that Culture Abuse's lead singer is getting more and more frustrated with the audience at the Music Hall of Williamsburg, it's like all the air is rapidly being sucked from the room.
I want to tell everyone around me to shut the fuck up and listen to what David Kelling is trying to say when he asks us what the one thing in the world we want to scream is. I want to tell them to stop yelling things that are making him mad at us. I start bristling at fellow moshers who had just moments ago been comrades, and start imagining grabbing one particularly smirky white kid and saying hey can you shut the FUCK up? I want to believe that tension like this are simply parts of the ritual, that they awaken something sacred. But at this moment, tension was god.
Kelling's girlfriend and opener Lil Ugly Mane come on stage to salvage the performance and according to Kelling later on Instagram, "[save] me from having a full-blown meltdown." Some audience member has apparently been making ableist comments about Kelling, who has cerebral palsy, and gets, according to a random Facebook post I found later, "the absolute FUCK beaten out of him" (I didn't see, I was on the other side of the stage).
And I'm glad, because in this audience I'm seeing the dark side of the anonymity and release that's part of the reason I go to hardcore shows. Because in a way, a crowd is like a wild animal. You want to read profundity and grace into its actions, but it might just eat your face. I can see how this is easy to get tired of: you want to think this is a ritual, that a show is something sacred. Sometimes, though, it's just belligerent young men pregaming for their Saturday night out.
Other Stuff
I'm very prone to hyperbole, but just can't say enough about how fantastic the band Mannequin Pussy is. They released one of, if not the best, albums of the year.

I also saw Everyday People's free show at Von King Park, and they were transcendent as always. At all three shows "Bam Bam" was played in some capacity. Someone should really write something about the hold that song has on our collective psyches right now. Anyway,

I really wish I had learned be a raver when growing up but I was too shy... email me if you can teach me!!

So you all were just gonna let me skip the new The National album? How fake of you all!!

The lyric "I had only one thing to do / And I couldn't do it" is very germane to me and this blog.
That's it! As always, the Instagram for this project is @CriticalPartyStudies. Feel free to e-mail me if you want to talk about this stuff at criticalpartystudies@gmail.com.